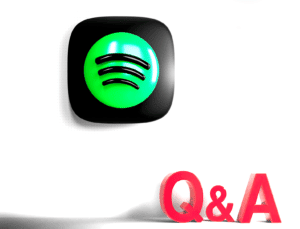 Spotify questions and answers everyone needs to know !
1- Are Spotify playlists public ?
Playlists you create are made public by default, but you can switch this setting off/on anytime. Note: Desktop app required. ... Under Social, switch off/on Automatically make new playlists public.
2- Are Spotify playlists free ?
Yes. Free users can create their own playlists or add songs to existing playlists in the app; this means if you want to add a track from Spotify Discover to an existing playlist, you can do so without having to worry. You can also create new playlists with music or artists you come across.
3- How do Spotify playlists get popular?
Playlist growth is similar to compound interest in that sense. The more people are listening to it, the more people see that others are listening to that Spotify playlist and are enticed to click on it, leading to growth on top of growth.
4- How do spotify collaborative playlists work?
What is a Spotify collaborative playlist? Spotify says that, with its collaborative playlist feature, you and other Spotify users can "team up to make the ultimate playlist". You can make any of your Spotify playlists collaborative, simply by letting your friends add, remove, and reorder tracks.
5- How often do Spotify playlists update?
Algorithmic playlists like Discover Weekly and Release Radar are updated weekly. For Release Radar, an artist's new release is eligible to appear in the playlist up to 28 days after it's been released.
6- How change Spotify playlist picture?
Click the image on a playlist you created. Click then Replace image. ... Add a playlist cover image
Tap (iOS) / (Android) at the top of the playlist.
Select Edit.
Tap CHANGE IMAGE.
Choose an image then tap Save.
7- How to  share Spotify playlist?
You can easily share a Spotify playlist with friends and family by clicking the "Share" option on the playlist page. You can share Spotify playlists via text message, email, or on social media, or simply copy the link to paste wherever you want.
8- How delete Spotify playlist  (mobile) ?
Open Spotify and tap "Library."
Open the playlist and tap the three dots ("...") to open the options menu. On an iPhone, these dots will be below the playlist's title. On an Android, they'll be in the top-right corner. ...
Tap "Delete" and tap it again to confirm.
9- How to submit my music to Spotify curator for free?
you  can start by summiting for free for my playlists following this easy steps :
1. Click on this link : Submit your music here
2. Unlock the gate to open the form
3. fill the form and select your music genre
4.  wait to see your music on my playlist
10-  where to find playlist curators on Spotify? There is few I recommend as an artist:
playlistpush : Curator signup   Artist signup   Get free discount by using this code QXFFPNA
11- How to submit your music to Spotify editors for playlist consideration ?
Log in or sign up to Spotify for Artists using a desktop computer. ...
Choose the unreleased track you'd like to submit from this section of your dashboard.
If it's an album or EP, choose one track to submit.
Complete the playlist submission form, giving as much information as possible about the track.