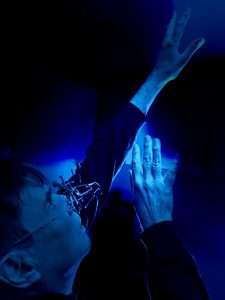 Maze (Original Album) by Chris Ianuzzi
Listeners will be taken on a musical, aural, and psychological journey with Maze. A unique mix of Post Punk, Avant-Garde, Electronic, Experimental, Industrial Beats creates a product that combines experimental music with indie rock. A dense and mysterious patchwork of post-punk guitars, electronic beats, and vocals. The lyrics on Maze read like a manifesto for something new that hasn't yet been named, a strange dream that invites us to awaken into another world. Music is not just about sounds; it is about symbols and rhythm, textures and atmospheres, creating a world for the listener to enter.
Listen & Follow
New York-based Electronic Music Visionary Chris Ianuzzi makes himself at home on the edge of creativity and chaos on expansive new album "Maze", out April 8 via Satellite Symphonics. Not only is Chris one of electronic music's foremost innovators, showcasing a visceral and confounding signature sound. For this release, he has embraced A.I. technology for new music video "March of Madness", and the mind-bending result is without a doubt one of the best music videos of that past 10 years. The video Created by Ethem Serkan Sökmen and İlke Köse, using a CLIP-Guided-Diffusion notebook called Disco Diffusion and other various AI tools and techniques. Reality bends and shape-shifts constantly as we're escorted further into the depths of Ianuzzi's creative consciousness. And if that weren't enough, the album will be accompanied by the release of "March of Madness" in Dolby Atmos Spatial Audio.