Ninni is a relatively new artist that brings serious talent into the music industry. The genre that he produces can only be described as a combination of blues, jazz, and folk music that synergizes in a rather exciting way to offer beautiful music to listeners, especially to those that vibe to these specific genres.
Ninni's is rather a mysterious artist that loves leaving space for the listeners to feel his music as they desire. 'Just The Touch of My Hands' is Ninni's latest single release, and we believe it speaks of the powerful effect of music has on elevating a person's state. The story of about how a single touch of 'My' hand can breathe life back into a person's soul. As described by the song, a single touch can bring you to dream again, jump again, live again, and smile again, forever and ever. At least this has been our breakdown of the lyrics.
The single is accompanied by the beautiful sounds of a guitar solo and the echoing blues sung playing in the background, 'Just The Touch Of My Hands' is truly a masterpiece of its genre.
The most significant part about enjoying Ninni's latest song is that this artist has a massive library from which his fans can enjoy music from. Ninni music career amasses a library of over 20 original songs with each song amassing more interaction from listeners from the one before it. Ninni has over 2,500 monthly listeners on Spotify that enjoy his music; however, his fanbase is living proof of the quality of music this artist has to offer. With 2,500 monthly listeners on Spotify, Ninni latest song 'Just The Touch of My Hands' has an astonishing over 45,000 plays on Spotify.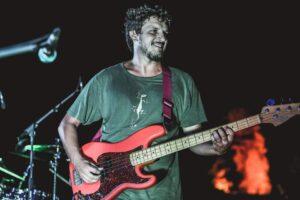 We love offering our users a fair review on our artists' songs and you don't have to believe us when we tell you this artist delivers amazing content; instead, we prefer to rely on the numbers generated by Spotify as living proof of the quality of Ninni's music. Give it a go, we promise you that you'll be enjoying his latest song along with his old ones.
Listen & Follow: