It is not often we come across artists that inspire us with their hard work and dedication in this industry, but this rising artist from Sweden is a true inspiration. Bobo is a genius of musical knowledge and he has recently released an original EP titled "Brand New" that has left me speechless so make sure you check it out.
A heart-warming bond between Bobo and music has been translated into his dedication to expanding his musical knowledge beyond comprehension. Aiming to never need help with writing and developing his music, Bobo invested in expanding his knowledge through a three-year musical degree from London and a Masters's degree from the Royal College of Music in Stockholm. An extremely impressive feat, Bobo also told me that he never left a single curiosity unchecked through his countless interactions with his professors something only a truly determined artist would do.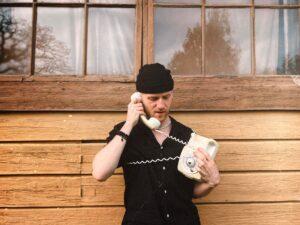 As a successful and well-experienced artist, I can recognize the difficulty and complexity behind the development and mastering of an EP like "Brand New". The EP which features six original songs is a polished work that took BoBo countless hours to complete. The album includes a unique mash-up of multiple genres drawn from a variety of sources, including old voice recordings on BoBo's phone, snappy, punchy lyrics, and a remarkable ability to translate emotions into a rich rhythmic harmony that enthralls listeners and demands their attention. The album is regarded as BoBo's greatest professional production to date; therefore, make sure to blast it out to get the full experience. It is inspired by love, tension, attraction, heartbreak, loss, and becoming the best version of yourself by standing up for who you are.

Artists like BoBo deserve recognition and trust me he will not disappoint you so check out his Spotify account and start streaming "Brand New", share it among your friends, and show him all the support on his social media platforms.
Listen & Follow