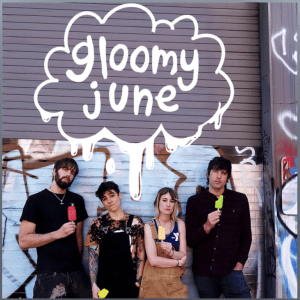 This Party Is A Warzone (Original Single) By gloomy june
Gloom june is an indie pop band hailing from California. made up of singer Alexi Rose Belchere (she/her), guitarist Devin Nelson (he/they), bassist Jack Sundquist (he/him), and drummer Ash Hyatt (they/them).
Their latest single, "This Party Is A Warzone" is something different than what people are used to hearing from them. However, if you are a fan, you'll know that this track is just another excellent addition to their growing catalog of great music. We're not all friends here, and we know it, but that's what makes it exciting here when there is always someone to fight over, a girl to make jealous, or a guy to turn down so you can win their attention. Getting into trouble makes things better. The song "This Party is a Warzone" was written in mid-2021 when music venues were beginning to open and concerts and shows were returning. During the shows, there was an air of desperation to "go back to normal" that felt both celebratory and chaotic, almost dangerous. It combines energy to party as your life depends on it with a self-awareness that it can't last forever. The line "Take a snapshot of this life before we fade away" is a reference to posting party-goers' lifestyles on social media and the finite nature of the moment.
Listen and Follow :