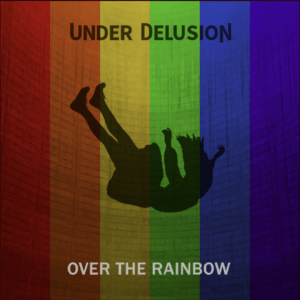 Let's put it this way, if you are into alternative rock and you are not listening to Under Delusion, then are you really into alternative rock? Under Delusion is a Russian alternative rock band you wouldn't want to miss out on; with an incredible low-timbered female vocalist and talent behind the drums and guitars, you are in for a roller-coaster of emotions. The band has a massive fan base of over 27,000 monthly Spotify listeners and over 500,000 plays on their masterpiece, 'Fairy' released in 2021 while rocking a rapidly growing presence on other social media platforms with over 2,000 Facebook followers and over 1,700 Youtube subscribers. They rock a gallery of 9 singles and their very own album 'Lover' with nine unique songs.
'Over The Rainbow' holds a dear heart with the band as it pays tribute to Maxx Verkhovski, one of the artists that contributed to the debut of the band's first-ever album and the making of the band's best songs like 'Fairy', 'Pain' and others. The song speaks Maxx's support to the band throughout their rise to fame, it pays tribute to his contributions and encouragement of the band while hoping that he is finally at peace, 'over the rainbow, over the rainbow, over the rainbow'. The song features an amazing mix of guitars and drums with synth grooves that synergize with amazing uplifting vocals that just make the listeners feel like it is okay to let go finally or to take a break from all the chaos that is occurring in their life. To us the song somehow portrayed the struggles this band has been through as a family to become who they are today.
'Under Delusion' shows real talent when it comes to delivery and lyrics, with an incredible ability to synergize the music as a band. They deliver alternative rock with a twist, and we know that you will enjoy their latest single, and you will be diving into the beautiful art this band has to offer. Make sure to stay updated with their latest news and releases through their website and social media platforms.
Listen & Follow: