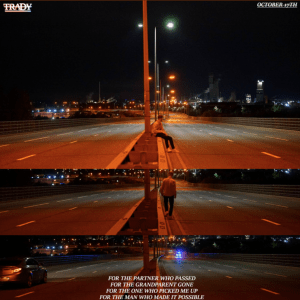 October 17th (Original Album) By Trady
Since I used to DJ at private parties and a couple of clubs in Beirut, I always kept two of everything, including a USB, HDD, controller, and another HD 25 - SENNHEISER headset. The story is this one was sealed. I wanted to see if it would work. The surprise was I wanted to review this fantastic album. Still, I couldn't due to extensive requests and an appropriate placement on my Spotify playlists.

The surprise was when I heard this original album's first track, "This is my intro" October 17th, By "Trady." My jaw dropped, and I couldn't pull it back up for like 40 seconds when I heard "This is my intro" on this brand new headset that is more than the flat studio headphones. The first thing that came to my mind was the Rap Legend Eminem. The enforcing screaming part is the same. The artist succeeded in delivering the message HERE I AM. Check out what I can do with his solid rap performance and the write fatty 808 drum kit with the surprising element !! he nailed it. So back to the album, it features thirteen original full-length tracks. Each track has a story and a different theme. All made me remember the D12 album, from the voice effect to the starting and ending dialog. It's a tremendous and well-done album, from the performance to the prosperous balanced lyrics to the hyper-trappy groove. If you haven't noticed, this is a more significant review than what I write daily. This Album is DOPE, and he's just a talented artist, not only just a raper with a distinguished creative and already accomplished and skillful profile.
Listen & follow :