For all the brokenhearted folks out there, Luke Frees wrote this song, especially for you. With his latest melancholy track, "Most of the time," Chicago-based musician Luke Frees looks back on his breakup. The lyrics of the song discuss his breakup, relationships, and how difficult it can be to let someone go. "The saddest part of a breakup is how thousands of inside jokes and memories that begin to evaporate. This song tries to capture the desperation and longing that comes with that realization." - Luke
Starting with the lovely violin and acoustic guitar playing that is present all through the song. The violin and guitar playing provide the song depth and movement, especially in the background, and give it a highly dramatic atmosphere. It enhances the song's overall texture giving it greater depth.
Luke's voice will offer you a serious case of the feelings; they're melancholic, sorrowful, and yet feel sweet. The violin, which continued moving up and beeping with intensity as the music built to a climax, plays a solo that stands out and keeps us feeling depressed. And if you thought the track wouldn't get sadder, just listen to these lyrics "And day after day They get further away / The memories of all of our nights / Inside jokes forgotten" haunting lyrics on how difficult it may be to let go and how hard breakups can be, There are many people that can relate to the lyrics. And this line "And it'll just get thrown in the waste / And one-by-one / They'll all just become / Blurry portraits in the back of our minds" stands out to me in particular, beautifully written lyrics on how their love will be lost and just remain as a faded memory.
I'll be playing this song nonstop for a very long time, it's the perfect heartbreak anthem. It's straightforward but nonetheless full of interesting production textures, gorgeous vocals, and amazing composition. All of the track's instrumentals were performed by the brilliant Luke, but Corwin Zekley, a longtime collaborator with the musician, was playing the violin.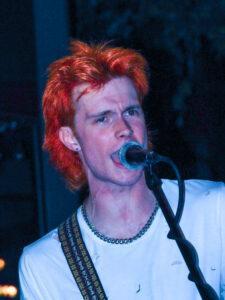 So if you're a person who's just been through a breakup, or just wants a sad tune to add to your playlist, "Most Of The Time" is a perfect choice. Listen to the track on Spotify, and follow Luke on his socials.