Well, let us put it this way if you end up listening to Leonardo Barilaro's latest music release "Maleth" you can officially tell the world you've listened to music composed in space and you would not be lying. Leonardo Barilaro is an aerospace engineer with incomprehensible love for the piano. Most renowned for being the space pianist, Leonardo's latest piece will leave you floating in space.
Broadcasted to Earth on the 15th of August, when the ISS was flying over Malta. Following the successful launch from Cape Canaveral on 14th July 2022, onboard the SpaceX CRS25 rocket, he composed this masterpiece during his one-month stay on the International Space Station.

Fairytale material; is the only way I can seem to describe this piano piece. "Maleth" is truly one inspiring piano piece and the incredible circumstances that surrounded its composition and performance makes it even more inspiring and beautiful. While we do not have a lot of details on the feelings and emotions that Leonardo was experiencing during his performance of this piece in space. We can promise you that the overflow of emotions and inspiration that this legend was feeling as he plays it will resonate through your mind and body. This piece will make you float with him through space and if you focus deeply enough, you will see Leonardo play this piece in front of you.
A man that plays the piano in space does not need help achieving recognition, he is already a legend. With over 14,000 followers on Instagram and over 700 monthly Spotify streamers, Leonardo Barilaro is already has a massive fan base to his name.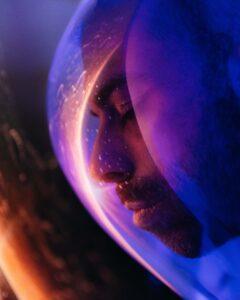 So stop whatever you are doing, and hop on Spotify to stream "Maleth". It is not every day someone gets to experience the space pianist. Also, be sure to follow him on all his social media platforms to show him support and recognition for this incredible achievement and also to encourage him even further to inspire us from space.
To remain up to date with his latest projects and music releases check out his personal website at http://www.nullodiesinenota.com
Listen & Follow