The East London-based band Bedroom Tax was formed in 2018 as an exhilarating four-piece fusing UK rap and punk elements. Post-lockdown, they have evolved into a seven-piece band with a more sophisticated and layered sound with the addition of two new vocalists and a violinist.
Providing something unique among the current crop of UK music, the group's punchy, dynamic sound and poignant lyrics help cut through the noise - drawing inspiration from The Clash, Dijon, Kano, Arctic Monkeys, Paul Weller, Whitest Boy Alive & The Streets. Their latest single from this fantastic band features explosive lyrics with a pop-rock/rap performing style that includes fast riffs and full-throttle energy, 'KIN' is a track reminiscent of the band's early days with its fast riffs, but with the finesse and poise that only come with sonically maturing. The song 'KIN' is a high-tempo chugger with indie, alt UK rap, and blues influences; it questions who you used to be, who you are today, and who you will be tomorrow.
The violin and bass guitar act as metaphorical encouragement to continue your journey no matter the adversity, as a deep dive into the nature of nostalgia. Josh Collins delivers vocals in the chorus that discuss time's distorting effects on memories. In the second verse, Gideon realizes that tough times aren't what defines your character but how you respond to them. The track's compulsive beat, sprinkled with acoustic stardust, and chorus catharsis, ensures the focus is firmly on the future, not looking backward.
After deep listening to it, I recommend it for good share.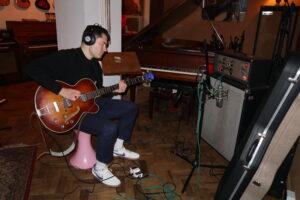 Listen & Follow: