Energetic, explosive, engaging; that's what it's all about. An incredible new single by Rob Lea that's strong enough to get the coldest of rooms moving. The track is on fire with insane creativity that is truly award-worthy. I assure you "Freak" by Rob Lea is a masterpiece of rock and roll, so be sure to blast it out at your next party and I assure you it'll be a night to remember.
Rob's rise to fame in this industry was never a surprise to anyone that knew him. The youngest of five, he launched his career from the comfort of his home, playing music to no one other than his family. Fast forward a few years later, he pursued a music career with the assistance of his music teachers and through years of education, Rob's become a master of instruments, playing flawlessly on guitars, drums, pianos, and trumpets. The compilation of all his skills and talents has allowed him to become the lead player in the Blackpool Orchestra.
As time went by, his music experience even grew further after working as a performer in Benidorm and joining a local rock band called Black Pearl in the UK. With years of experience and unmatched talent, it was his performances with Black Pearl as a frontman that made him realize where his true passion lies. It was that spark of realization that blessed the world with his self-made music.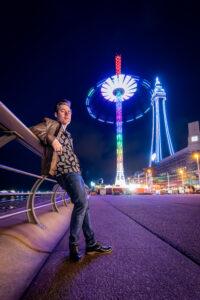 "FREAK" goes far beyond music and entertainment; it is a tribute to the golden age of Rock 'n'Roll. A flawless original that features an unbelievable guitar performance and a chaotic synergy of instruments that just captivates your mind and resonates energy throughout your whole body like an electric current. The authentic emotional explosions throughout the song show how deeply the lyrics connect to Rob. The song is a massive F**K you to everyone that dares to call you out for being anything less than perfect. A song that beautifully conveys the message that everyone is beautiful just the way they are. In a world so engulfed by social media madness, such a single couldn't have been released at a better time.
Everything you might want to know about this artist is available on his website, so be sure to check it out at https://www.roblea.co.uk
Listen & Follow: