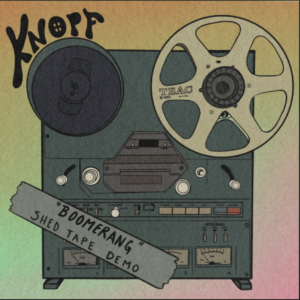 Here's another new original rock track from the upcoming indie artist Knopf, Boomerang.
While the song features good lyrics and instrumental guitar, I would enjoy it more if it were more to the center, not as much as it is panned now. 
My favorite part was when the climax energy level hit at 02:15, followed by the cool lyrics line. 
A remarkable fact about this original single is that it was written for two friends of the artist who had sold all their possessions and started living nomadic lifestyles. This song was inspired by the artist's love and inspiration for them. Everything on this track was played by him and recorded in a shed in the southern California high desert. Also, that's his 3-year-old daughter at the end!
Listen & Follow: